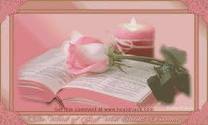 "Thy word have I hid in my heart, that I might not sin against thee," (Psalms 119:11)
God's Anointed Ministries would like for you to joins us each day as we read the Word of God for strength, wisdom, instruction, and for guidance.
On each day of the month there is a selected portion of Scripture reading taken from the Old Testament, the New Testament, the Psalms and the Proverbs, etc.
You can personally customize the reading chart below to fit your own schedule. You decide whether to read all of the selected Scriptures for the day or only a portion of them.
Send Us Your Scripture Suggestions…